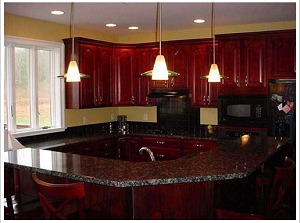 We are committed to your vision.
Many of our customers know they are in need of a new roof, or want to update their homes but don't know where to start. Bob takes the time to go over shingle options, design plans, and more to make the customer feel at ease and capable of making these big decisions. You may not know the best color shingle for your home or what type of cabinets need to be installed in your kitchen but rest assured, Bob will answer those questions.
Nobody gets excited when they come home to a leak in their ceiling or move into a new home in need of major repair or remodel. Let us take the hassle out of those projects for you. Simply share your vision and let us do the work!
Family owned and operated
Dependable and reliable
Highest quality and standards
Efficient completion of jobs
Keen attention to detail
Frequently Asked

Questions
When should I replace my roof?
If you see areas that appear to be sagging or are experiencing signs of water damage or leaking, be sure to call us immediately. A small roof problem can escalate quickly and cause a bigger headache than necessary!
How do I choose the right contractor?
Get referrals, give us a call, stop by our office or browse our site!
We are a small company focused on providing you with the best construction services. We are sure that if you choose us, you will be satisfied with the work we complete.
What should I do to prepare for work to be done on my home?
We typically start our work day early in the morning. Understand that during the winter we are battling an early sunset and in the summer we are facing the heat of the sun. Depending on the work being done you may want to remove hanging frames from your walls, move your cars from the driveway and provide us with access to power.
How long does your typical roofing project take to complete?
This depends entirely on the size, angle, shape and condition of your roof. Some roofing projects take a matter of a few days, while others can last a week or two. We have a small crew focused on meeting your roofing needs so we do not rush through a project. We aim to get everything done right the first time around.
What shingles do you use?
We use Owens Corning Shingles for most of our projects. They offer a wide assortment of choices ranging from traditional to durable.